Warehouse is often the first and the worst bottleneck in production.
The correct plate is found immediately.
Storage racking system for metal sheets
Are you looking for horizontal or vertical sheet metal shelves, sheet metal organizer or heavy duty sheet metal storage racks or something to store your large metal sheets? LIPUs revolutionary vertical sheet metal storage system is the answer for you.
Revolutionary sheet metal storage system 
When you are looking for a new, more efficient vertical or horizontal storage racking system for your metal sheets, LIPU Oy can provide you the most efficient and safest hydraulically operated sheet metal organizer which combines years worth of careful engineering and innovative horizontal positioning. LIPU storage systems will save you time, money and space, amongst other valuable resources. As well as improving your production machinery utilisation and productivity significantly. If you have any questions considering our storage racking systems, please contact us directly or look for more information below!
LIPU – An alternative for usual sheet metal storage shelves and racks
LIPUs modular storage systems are designed for the modern way of warehousing, that values the easiest and the most efficient ways to store metal sheets. The LIPU sheet metal storage system is hydraulically operated and consists of a number of frames and pivotable storage seats that utilise warehouse space vertically. While the selected storage seat is in horizontal position, the goods can be loaded and unloaded way easier. This means that each storage seat can be filled and emptied from four different directions: from both sides, front and above. Work safety also improves significantly when the sheet metal storage racking system is operated horizontally.
Available in different parts of the world
Our head office in located in Savonlinna Finland and our always expanding distributor network serves our customers locally in different parts of the world. So when you seek for a carefully engineered metal sheet storage system, contact us, so we can discuss more!
Why you should choose LIPUs vertical sheet metal storage system?
It saves floor space up to 80%
huge improvement in working safety
improved productivity due to faster storage handling
less wasted time when one can find the sheet they need instantly 
you can access the metal sheet from many different angles
easy to operate either automatically or manually
modular structure which makes it possible to tailor the system for your needs 
A system which lasts – calculated service life of 25 years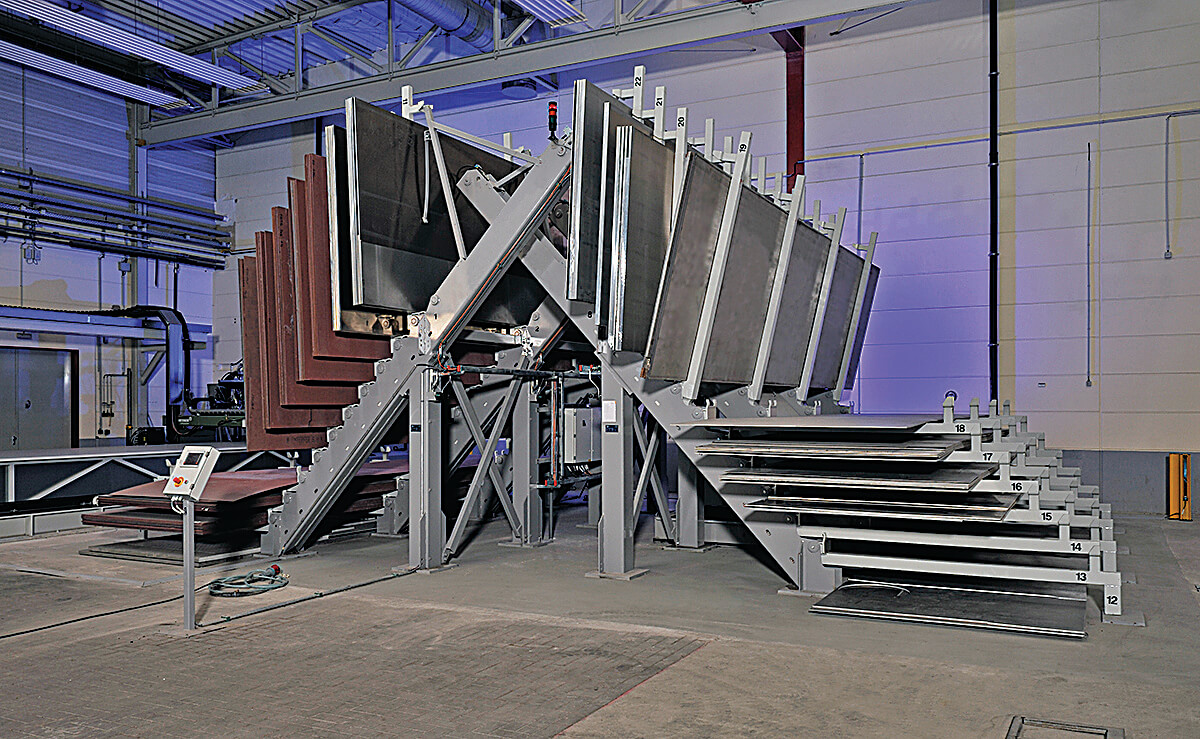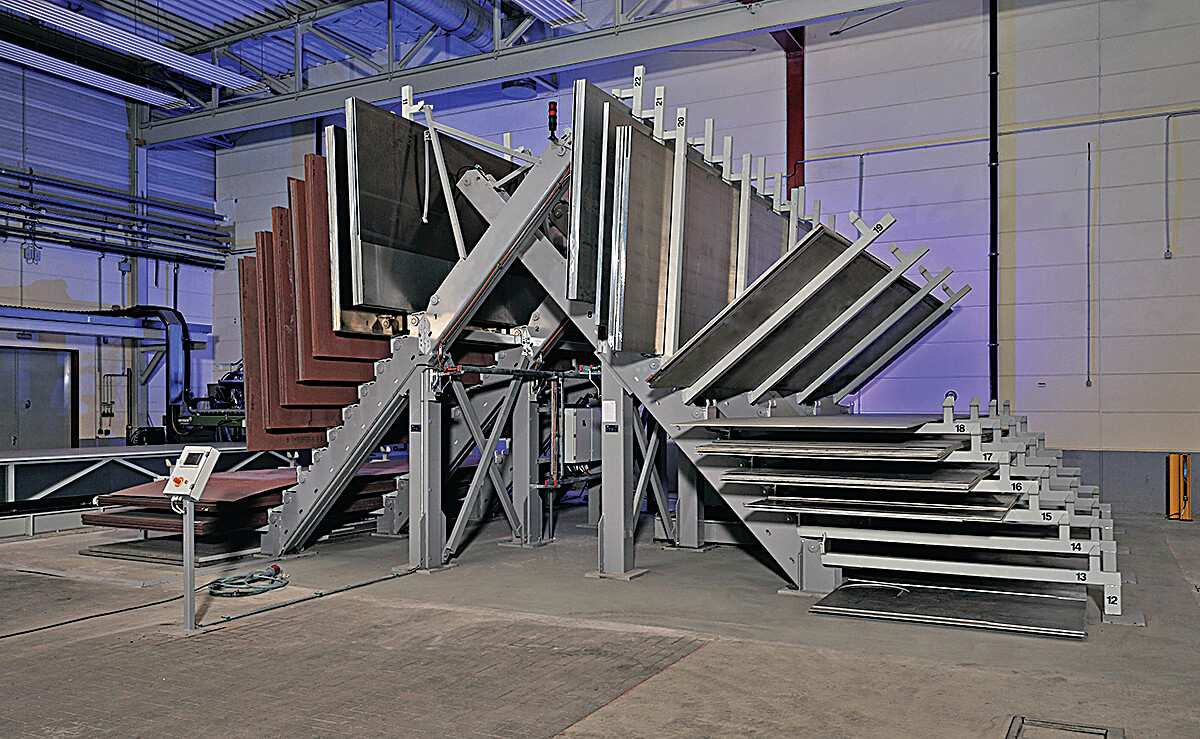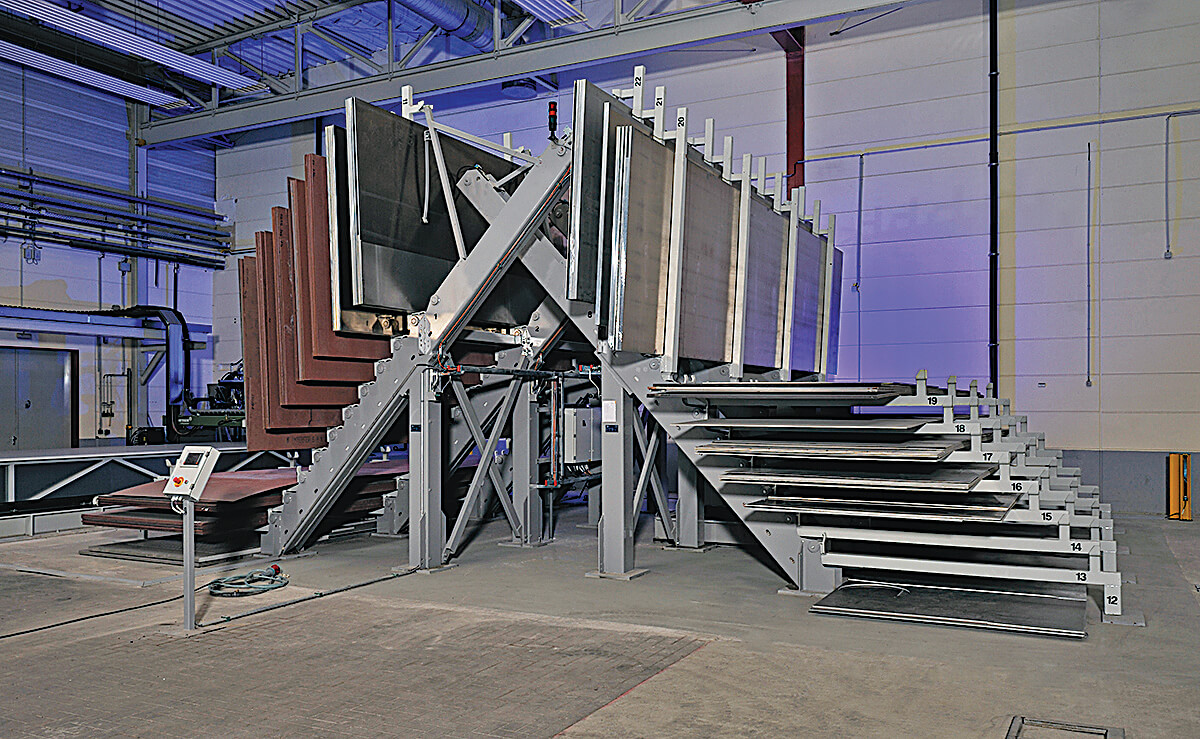 Our sheet metal storage system saves 80% of floor space
Thanks to our vertical metal storage racking system, you can reduce your warehouse sheet metal storage floor space requirement up to 80 percent. The minimal space requirement allows the goods to be stored close to the processing stations, which eliminates any unnecessary transfers or impact damages and waste of time. The correct metal sheet is also found immediately and accessed for processing without any delay, since the content of a single storage seat can be scrolled in just 35 seconds. That way the use of separate storage seats lead to a significant improvement in production machine utilisation and productivity.
Metal sheet organizer with a modular structure
Due to the modular design, the LIPU storage system can be easily customized to the right metal sheet size and capacity.
Typical metal sheet sizes to store:
1.5 x 6 m
2.0 x 6 m
2.0 x 8 m
2.0 x 12 m
2.5 x 6 m
3.0 x 6 m
LIPU systems have options for 6, 8, 10, 12 or 16 storage slots.
LIPUs sheet metal storage system can operate automatically or manually
LIPU open storage system can be controlled automatically or manually, which ever suits your needs the best. The racking systems control can be connected by a cable or a wireless contact. Automatic control uses a production program that identifies required plate each time. It then opens the correct storage seat and transfers it to the processing station. After every transfer the metal sheet storage racking system prepares itself automatically to transfer the next sheet during processing.
The automation system can also be connected to the warehouses information system, which enables real-time monitoring of the warehouses general situation. Automated LIPU metal sheet storage racking system can also use remote diagnostics, which speeds up the analysis of any malfunctions.
If you have any questions regarding our metal sheet storage racking systems, contact us now!
Also check our gallery for videos of our LIPU systems in action.